A Quick Update From Our Very Busy Summer!
As the clocks go back, temperatures start to drop and we to settle into Autumn, now seems the perfect time to do an update on everything we have been up to over the summer. It's safe to say that it's been a busy one for the team, from quizzes to seminars to our 10-year anniversary celebrations; it has been all go here and we just couldn't wait to share everything we have been up to throughout the summer months!
We began the summer with a Young Professionals Vs Young Farmers' Quiz, in aid of our chosen charity for the year, Mind in Somerset. This was organised by our own young professionals at Evolution ABS, the quiz welcomed sixty people from the local professional network and local farming community, giving the perfect opportunity to network with people from different working environments. We had a fantastic evening, raising an amazing £200 for Mind in Somerset and MHA Monahans took home first prize!
In July, one of our directors, Kate Bell, spoke at the summer Agricultural Law Association (ALA) event which was held at Great Fulford near Exeter. Kate sits on the ALA Somerset and Dorset committee and helped to organise this event alongside myself. Forty attendees took a tour around Great Fulford led by Francis Fulford, before taking their seats for a presentation on 'Dealing with a Landed Estate' run by Kate, Jeremy Smith from Savills and Tom Biddick from Ashfords.
Our summer highlight is always the Honiton Show and, on the 1st August, we set up our marquee at the show and spent the day catching up with our visitors. The team worked exceptionally hard to ensure everyone was well fed and watered on what was a scorching day! In the afternoon, we invited guests to join us for a special prosecco cream tea to celebrate our 10-year anniversary and it was well enjoyed by all.
And finally, the end of August saw our new director, Dan Knight, speak at two seminars on 'Future Proofing for Profitable Production'. Dan spoke alongside AHDB Beef & Lamb and Synergy Farm health and the evening looked at strategies to ensure profitable production for the future with an emphasis on cost of production and helped to identify what is preventing your business from achieving its potential. The discussion evenings, which were at Frogmary Green Farm and Blandford Badger Brewery, were both very well attended.
Written by
Georgia Manning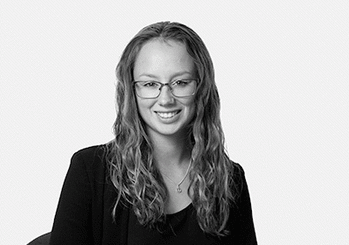 Georgia Manning
Business Administrator & Marketing Coordinator
Georgia joined Evolution ABS in September 2016 after studying her level 3 Travel & Tourism Diploma. She has since completed her Business Administration level 2 and 3 apprenticeship with Richard Huish College. Georgia also coordinates the firms marketing resources.
In her spare time she is an active member of Wellington and Taunton Young Farmers and assists with secretarial role of the Somerset branch of the Centre of Management in Agriculture. Georgia also enjoys going to music festivals and concerts, cycling, going to the gym and her annual holiday to Ibiza.