Team Evolution Takes On Another Challenge!

Following the success of Team Evolution's 55 mile charity cycle last year, raising a fantastic £1682.00 for FORCE Cancer Charity, they have decided to take on another challenge this year in aid of their new charity of the year, Children's Hospice South West.
This year the team, consisting of Margaret Scarrott, Ellie Hammett, Alice Dibble & Georgia Manning, are taking on the extreme challenge of abseiling 220ft down England's highest waterfall, Canonteign Falls, just off the edge of Dartmoor National Park.
About the Charity

For more than 25 years Children's Hospice South West has been caring for children with life-threatening conditions by providing children's hospice and professional family support services. They are dedicated to making the most of short and precious lives through the provision of the best possible hospice care for children and young people with life-limiting conditions. The care offered at each of their three hospices is not just about medical and nursing support for sick children but enriching lives of the children and their whole family.
This challenge aims to raise vital funds and awareness for Children's Hospice South West and the team have set themselves a goal of £500 to raise for the charity. Money raised goes towards short rest bite breaks, sibling support, emergency and palliative care, to end of life care and bereavement care. To give an idea of what money raised goes towards:
£10 will pay for paints and materials for children and siblings to enjoy art therapy
£25 will help to pay for medical consumables for a day at one of their hospices
£100 Could pay the food bill for one day at one of their hospices
£200 will help to fund 24 hour doctor cover for one day.
.
Any sponsorship, small or large, will be greatly appreciated by the team, please follow the link to sponsor the team and help them achieve their goal!
https://uk.virginmoneygiving.com/Team/TeamEvolutio...

Written by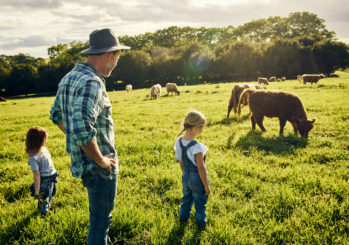 Re-emerging and re-imagining:
The events that have unfolded across the globe over recent months have been a fascinating experience. The universal need to instigate immediate and fundamental change to everyday life has perhaps reminded us that nothing should be taken for granted. It has also been an exciting demonstration of our ability to adapt and explore new ways of doing things.
Many rural businesses have been impacted, particularly those with diversified enterprises in the tourism and hospitality sectors and those that rely on seasonal migrant labour. A number of businesses are therefore understandably focusing their thinking on managing short term cash flow and in a number of cases, looking to "get back to normal" as soon as possible. But is that the best thing, to "go back to normal"?
We have collectively experienced a large scale existential threat. Lock down restrictions and social distancing measures have perhaps resulted in a lot of people reflecting on the broader picture. What is it we want for the rest of our lives, and for the lives of our children and their children? A number of business owners are asking themselves what they want for and from their business going forwards.
As we re-emerge from the current situation there is an opportunity to re-imagine our businesses and prepare for the future. A lot has happened, and there is more to follow over the coming years, that will impact how rural businesses operate.
There has been an abrupt change in consumer trends, with many more people choosing to buy from local shops. Some of this may be to avoid "running the gauntlet" at the local supermarket under social distancing measures. Some of this may be an increased awareness of the risks of relying on global, or even national, supply chains and the need to support local businesses if we are to be self-sufficient.
As a family we have enjoyed doorstep deliveries from a local dairy over the last couple of months, who kindly drop off fresh milk, yoghurt and fruit juices three times per week. The milk is a little more expensive than it might be at the supermarket, but the nostalgia that is triggered when I have to "debate" with my young son over who gets the cream when we open a bottle is more than worth it and we have no objection paying a fair price for quality produce. Handing back and recycling the glass bottles is also satisfying, as it helps us reduce plastic use as a household and contribute a little more to overall sustainability.
Understanding why people have chosen to buy locally is important and will help us understand what we should do so that as many of these additional customers continue the new trend and do not "go back to normal". A point perhaps made even more important due to the contents of the Agriculture Bill, Brexit and the potential impact on the UK food industry.
As well as where to buy food, a key choice for consumers is where to take their holidays. There will no doubt be an increase in "staycations" later this summer, and possibly next summer, whilst there is a nervousness about getting back on a plane or travelling across borders. Another opportunity is therefore identifying what can be done to ensure that as many of those travellers return in future for repeat stays, or other stays within the UK. Rural Britain is, after all, a treasure-trove of natural wonders and a beautiful space to relax, unwind and enjoy time with loved-ones. Something which many of us are craving for after the last few months.
Whether it is customers in the farm shop, or visitors in the holiday lodges, it would be very sensible to talk with them to understand what they have valued and what would bring them back again. Although financial data and statistics can be helpful, they are historic. It is often qualitative data and listening to consumer opinion that gives us the greatest insight into how a business needs to adapt and evolve to remain successful.
Turning back to sustainability, it was interesting to read an article recently about the impact lock down is having on global emissions. It is estimated that while the restrictions were most stringent national emissions fell on average by 25% across the developed world. It is anticipated that by the end of the year emissions could be reduced by between 4% - 7%. What it perhaps more thought provoking is that in order to be on track to achieve the ambition of the Paris Agreement, global emissions need to fall by 7.6% every year between 2020 and 2030, highlighting the scale of the challenge ahead of us. It also perhaps highlights the need for radical, rather than incremental, change.
The experiences of lock down and its impact on emissions may help the agricultural industry to rebut unfounded challenges from environmental campaigners regarding agriculture's impact on global warming. It will be important for the organisations representing the industry to harness the opportunity to showcase the positive contribution that UK farming can offer climate change initiatives and improve consumer understanding and influence their perception.
As consumer trends continue to evolve and the political landscape changes, technological advancement occurs at an ever more rapid rate. This also has an impact on how businesses operate and even the business models that they follow.
For many years farming businesses have been getting bigger, investing in larger and more expensive machinery capable of increased outputs per hour, to spread machinery and labour costs over a greater area.
As machines become autonomous and do not require an operator, in the traditional sense, will this change? Will compact, autonomous machines enable sustainable margins to be made from smaller holdings that deliver a specific, high quality product to a more accessible and growing niche market?
If this sounds far fetched, let's consider robotic milking machines. Once upon a time it would have been unthinkable that it might make sense to keep less cows, who would voluntarily visit an automated milking parlour as many times per day as they wished, whilst the labour force, which continue to manage the herd, use the time saved to focus on adding value elsewhere in the business. But there are many examples of where this has happened successfully, and often in combination with diversifying the business with retail or educational enterprises.
Let's also consider the application of other technologies that continue to advance and become more accessible, such as hydroponics and vertical farming. Imagine a system of farming salads whereby you could remove the soil and slugs, the most common themes found in consumer complaints in that market, would that be helpful? Would it make logistics easier and more sustainable if the solar powered building in which the salads were grown was located adjacent to the supermarket distribution centre? We now grow much of our poultry and pork without land, why not salads and possibly other crops?
These things may not be common place next year, but they may be during the tenure of the next generation of farmers and growers.
Succeeding a lifetime's work to the next generation is a major process to undergo for many families. Although tax should not be the primary consideration, due to the capital value of landed businesses, it can sometimes impact on decision making. The Office of Tax Simplification recognised this in their second report on Inheritance Tax in July 2019. The recommendations in the report include asking the Government to consider withdrawing the Capital Gains Tax uplift on death where an asset is relieved or exempt from Inheritance Tax, so that there are less tax incentives to hold assets until death. Considering this together with other recommendations in the report, the intention starts to become clear. It would be in the nation's interest for businesses to be passed down earlier, to enable the next generation to invest their energy and enthusiasm confidently and fuel the economy.
Farming businesses have faced a deluge of challenges over the decades and this theme is set to continue. Business owners that are open minded and have the courage to experiment with new ideas will continue to be successful, navigating the challenges that present themselves to seek out opportunities hidden within the disruption to conventional systems and approaches.
There has been a huge amount of information published from many sources of late, setting out what needs to be done by businesses to navigate the current storm. Rather than add to the noise, the objective of this article is different. The intention is to provoke thought, to reflect on what is to come, not what is now. From thought comes conversation, an extremely powerful tool to fuel curiosity and explore what could be.
So there is one recommendation having read through the above. Engage in conversation with those you trust, family, friends and advisers, and start to contemplate what your business will need to look like in future to continue to achieve the family's dreams.