5 Minutes With Dan and Victoria
Dan Knight and Victoria Paley have recently joined Evolution ABS and our marketing coordinator, Georgia Manning, has asked them some questions to get to know them and their roles.
1. So, who are you?
Dan: I'm Dan and I joined the practice as a Director in April, having worked for a regional practice for around 12 years specialising in agriculture and rural businesses.
Victoria: I'm Victoria and have recently joined the practice as a Senior Tax Manager, having worked with Dan for several years.
Although we are both Chartered Accountants and Chartered Tax Advisers, we only spend a modest amount of time dealing with routine accounts and tax returns. We spend the majority of our time helping farming families with long term planning and project work, from buying or selling assets to restructuring the family business. As well as technical tax work, we are often engaged to facilitate discussion between family members to help make decisions and work with other professional advisers to implement change.
2. How did you get into Accountancy?
Dan: Having grown up on a dairy farm on the Dorset/Somerset border, I spent several years working in agriculture. I became increasingly interested in the business management aspects of farming and pursued a career in agricultural accountancy to help a range of businesses and families with the challenges they face.
Victoria: Growing up in East Devon and spending several years in Axminster YFC, I wanted to pursue a career in the rural industry. I studied Rural Resource Management at the University of Reading, which focused on agriculture, environmental management, agricultural law and business management. I particularly enjoyed the financial aspects and therefore chose to become an accountant with a bias for rural businesses.
3. What do you enjoy most about coming to work?
Victoria: I enjoy helping people make the best of their situation. I particularly enjoy problem solving and so helping clients progress from their current position to where they want to be, as tax efficiently and as practically as possible, presents a challenge that I enjoy solving.
No two clients are the same as every client has unique circumstances and family dynamics, which keeps our job challenging and enjoyable. Coupled with that is the ever changing and continually expanding tax legislation meaning that nothing standstills for long!
Dan: I take huge satisfaction from helping people through often difficult situations. We are often asked to help with a tax issue but when we meet clients it often becomes clear that tax is only one aspect of a much larger and complex situation.
For example, a family asked for Capital Gains Tax advice on the reluctant sale of their farm as family relationships had broken down. Once we discussed the reasons for the sale and explored other options, it became apparent that they could achieve their objectives by selling just a few acres of off lying land and restructuring the business to facilitate independence between the two successors.
With the land now sold and two independent businesses created, those individuals have now restored their relationship and are farming successfully alongside each other, regularly sharing machinery, ideas and even childcare!
Helping families like this makes me love coming to work.
4. What do you get up to outside of work?
Victoria: I have a Labrador puppy at home and so I spend lots of time trying to train him at the moment. He seems to enjoy walks to the pub which is win win! I also have a horse which keeps me busy and I hope to be back out in the hunting field this winter. Any spare time is spent slowly renovating our house or trying to keep up with all of my nieces and nephews!
I also love to travel and try and make the most of holidays having been to India, Cuba, South America and South East Asia over the last few years.
Dan: I have a young son who is very keen on football, so Friday evenings and Sunday mornings mostly consist of supporting the team with training and matches.
I really enjoy spending time outdoors and shoot regularly, either sporting clays throughout the summer or on a game peg during the winter.
Written by
Georgia Manning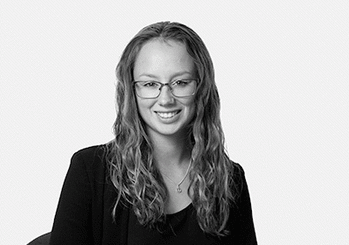 Georgia Manning
Business Administrator & Marketing Coordinator
Georgia joined Evolution ABS in September 2016 after studying her level 3 Travel & Tourism Diploma. She has since completed her Business Administration level 2 and 3 apprenticeship with Richard Huish College. Georgia also coordinates the firms marketing resources.
In her spare time she is an active member of Wellington and Taunton Young Farmers and assists with secretarial role of the Somerset branch of the Centre of Management in Agriculture. Georgia also enjoys going to music festivals and concerts, cycling, going to the gym and her annual holiday to Ibiza.